An Interview with Novelist Greg Bear
Greg Bear discusses his political thriller Quantico
A Video Interview with Novelist Greg Bear
About the Book
Quantico
Hardcover
$24.95 U.S.
$29.95 Canada
ISBN 9781593154455
It's the second decade of the twenty-first century, and terrorism has escalated almost beyond control. New weapons are being spawned in remote basement labs, and no one feels safe.

In North America, the FBI uses cutting-edge technology to thwart domestic terrorists. The War on Terror has reached a deadly stalemate.

The FBI has been dispatched to deal with a new menace. Like the Anthrax threat of 2001, a plague targeted to ethnic groups has the potential to wipe out entire populations. But the FBI itself is under political assault. There's a good chance that agents William Griffin, Fouad Al-Husam, and Jane Rowland will be part of the last class at Quantico. As the young agents hunt a brilliant homegrown terrorist, they join forces with veteran bio-terror expert Rebecca Rose. But the plot they uncover—and the man they chase—prove far more complex than anyone expects.

Quantico is a selection of: Book-of-the-Month Club, Military Book Club, Mystery Guild, American Compass Book Club, and Quality Paperback Book Club.
Reviews
"Far from the typical FBI procedural, sci-fi author Bear's latest is a dark look at the near future. Quantico confidently delivers a mix of forensic handiwork, bureaucratic insight, and futuristic speculation."
—Entertainment Weekly
About the Author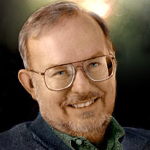 Greg Bear is the author of more than thirty books, including
Blood Music, The Forge of God,
and
Darwin's Radio.
Bear has served on political and scientific action committees and has advised Microsoft Corporation, the U.S. Army, the CIA, Sandia National Laboratories, Callison Architecture, Inc., and other groups and agencies. His novels
The Forge of God
and
Anvil of Stars
have been optioned by Warner Brothers, and
Darwin's Radio
and
Darwin's Children
have been optioned by Michael DeLuca and Howard Braunstein. Married to Astrid Anderson Bear, he is the father of Erik and Alexandra and lives in Lynnwood, Washington.
New to Podcasts?
You can receive our podcasts automatically on your computer, iPod, or other device. Find out what you need to get started and how to subscribe. (It's free!)